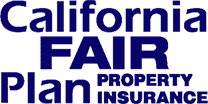 The California homeowner's marketplace is in chaos. Some of my colleagues have called it "the quiet crisis". After the recent wildfires which were deemed to be the worst in California's history, insurance companies and reinsurance companies lost billions of dollars, and, of course, that trickles down to all homeowners in this state.
Personally, my own homeowner's policy was non-renewed (that puts to bed the thought that I receive preferential treatment because I'm an insurance agency owner). The neighborhood that I live in Escondido is now considered to be a high risk for brush fires. It doesn't matter that we haven't had a fire in our neighborhood before and I have never filed a homeowner's claim in twelve years of owning the house.
Many homeowners in California are receiving a non-renewal notice as well. Because all companies have really tightened up their acceptability standards, some people have no choice but to be moved to the California FAIR Plan. So what is the FAIR Plan?
In 1968 following brush fires and riots (Riots in 1968? Who would have thought this would happen?), the FAIR Plan was created for people who were unable to obtain homeowner's insurance in the voluntary market. In other words, it's the program of last resort.
The FAIR Plan is made up of all insurance companies licensed to conduct business in California. It is NOT a state agency. By statute, all property/casualty insurers doing business in California must participate in profits, losses, and expenses in proportion to how much market share they have in the state.
This is a VERY BASIC policy that covers fire, lightning, internal explosion, and smoke (so essentially it covers fire). It does NOT cover losses due to theft, burglary, liability, or bursting of pipes. Not covering bursting of pipes is important because water claims are the #1 reason home insurance claims are made.
If you are forced to purchase a Fair Plan policy because there are no other options in the voluntary market, it's important to also purchase a "wrap around" policy which is called a Difference in Conditions, or DIC policy. A DIC policy can cover bursting pipes, liability, theft, and other coverage not included in a Fair Plan policy. If you live in a high-risk area such as Ramona, Julian, El Cajon, and other areas which have a lot of brush, you may be forced to purchase a Fair Plan policy and I highly recommend a corresponding DIC policy.
One last note; the FAIR Plan is not rated by A.M. Best but there is no need to worry! When you have a FAIR Plan policy, you are actually backed by every insurance company which writes homeowner's insurance in California. Since it really is the program of last resort, of course, the cost will be higher than policies in the voluntary market but if you have no other options and especially if you are trying to get through escrow, this can be accomplished through the California FAIR Plan.